1
Radio Flyer My 1st Scooter Sparkle Pink Reviews
The My 1st Scooter Sparkle pink provides children ages 2 to 5 years with an excellent opportunity to enjoy a safe ride in and around the house. The scooter is designed for newbie riders to assist them in learning balance, coordination and stability. This easy to fold up scooter is great to carry along on evening strolls to the park or around the block. They will likely love to scoot in style as most of the My Radio Flyer 1st Scooter Sparkle reviews portray it as a fun ride for the children.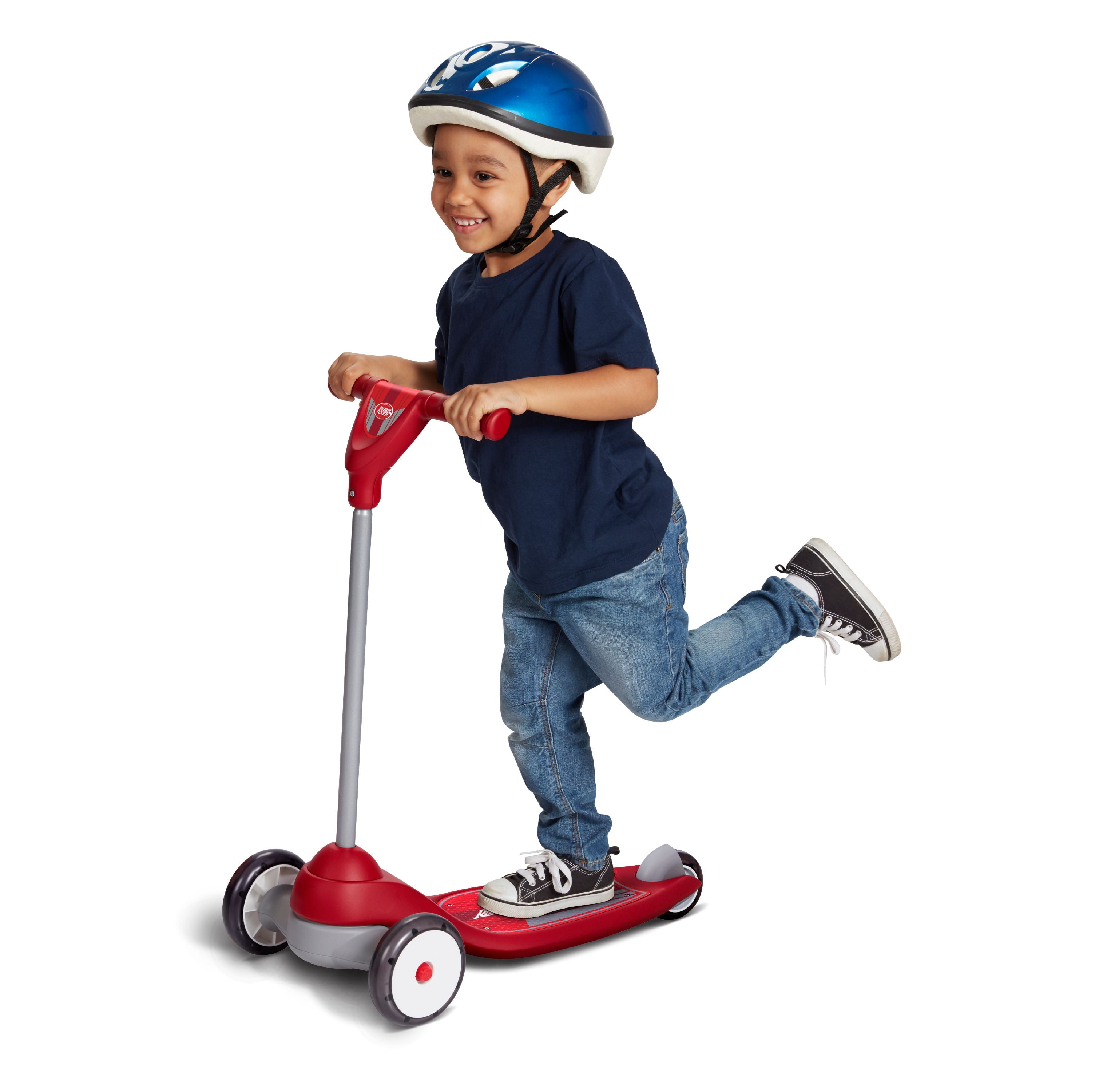 Product Specifications
Extra-wide base for better balance
Two front wheels for stable steering
Foot brake for extra control
Tapered base to create a clear kick path
Ergonomic grip handle
Weight: 6.17 lbs.
Weight Capacity: 50 lbs.
Carton Dimensions: 12.28″ L x 7.87″ W x 24.02″ H
Model: #539P
Ages: 2-5 Years
Your Kids' First Scooter/Good Control
Being your kids' first scooter, it has been designed to be easy to use and contains user friendly features. It is not hard to propel forward, to steer it comfortably or stop when needed. Its ample sized deck is a prominent feature and is very supportive to beginners discovering this fun, new ride.
Safe and Secured Ride/ Wide Deck
This extra-wide base of the Radio Flyer Scooter ensures good stability providing enough space to place their feet on the scooter. This stability is further enhanced by the two front wheels that help to maintain balance on the scooter and control it effectively. The base/deck is tapered to support a kick path maneuver on the scooter while holding the ergonomic grip handle, ensuring proper control always.
Smooth Turning/Braking Power
The My 1st Scooter Sparkle features a well-designed turning radius that ensures easy and effortless turns and mobility. This Radio Flyer also comes with an important and easy-to-use footbrake for added control of speed.
Design and Material
The My Radio Flyer 1st Scooter Sparkle is easy to assemble within a few minutes. Overall this excellent little scooter comprises many good and important features including a body designed with durable solid plastic instead of hard metal surfaces which help to avoid possible injuries by lose or broken parts of the scooter over time.
A top contender model for anyone looking to purchase a new scooter to train in the fundamentals of control and balance while having fun.